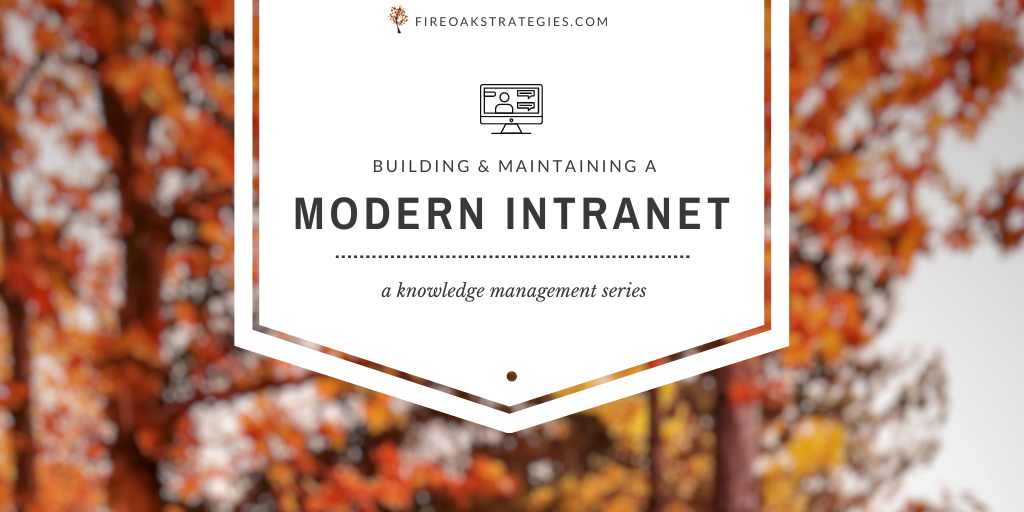 In today's digital workplace, all organizations with more than a handful of employees should have an intranet. A successful modern intranet makes it easy for staff to find what they're looking for; discover new knowledge; and connect, collaborate, and communicate with each other. An effective intranet is useful for the organization itself and for staff – it should be a win for everyone.
Reasons to invest in an intranet
Here are six key reasons why your organization should invest in an intranet:
1. Internal Communication & Knowledge Sharing
All organizations benefit from having a central place to publish internal organizational updates, announcements, and news. Using a modern intranet platform with photos and videos adds some visual appeal and catches staff members' eyes. With the onslaught of email that most of us experience on a daily basis, it's useful to know where to find all important news and updates so they don't get buried. Plus, new team members are able to read and access recent news – something that simply isn't possible through email.
2. Single Source of Truth
For organizational information that affects all staff members such as internal policies, current benefits information, who's who in the organization, and more, it's critical to keep this information up-to-date and in a single location such as a knowledge base within the intranet.
Staff must be able to trust that the information they find through the organization's intranet is validated, current, and accurate.
Maintaining this information requires ongoing care and feeding. It must be someone's job (or a team's job) to keep this type of information up to date.
3. Sense of Community and Employee Engagement
Your organization's intranet can be far more than just a place to go for information – it can be a powerful tool to promote a sense of community among staff members. For organizations with thousands of staff members where it's impossible for everyone to know each other, for organizations that have some remote staff members or are entirely remote, and for organizations with multiple locations (in a single country or scattered around the world), an intranet can serve as a digital office space.
The intranet can host virtual knowledge sharing events such as lunch and learn sessions or to host a speaker or event that everyone can participate in without physically being together. Use the equivalent of online discussion boards to encourage staff to interact with each other in lightly moderated environments. For more formal opportunities for staff to share their feedback, ideas, and input with the organization, a digital suggestion box can be a great tool.
In all of these examples, the intranet provides a shared platform for staff to use to feel connected to each other and to the organization, regardless of where in the world they're located or if they ever step foot at the corporate headquarters.
4. Organizational Efficiency & Effectiveness
Using a platform such as Microsoft 365 as the infrastructure for your organization's intranet allows you to easily incorporate automated workflows within the same platform. For example, you can use Microsoft Flow to automate tasks and build workflows for processes such as reviewing and approving organizational policies, social media content, or formal internal communications. Or use Flow to automate workflows that span across multiple systems – for example, adding new users to the intranet as new users are added to the HR platform.
Keeping critical automations in the same platform as the intranet can save time and help the organization become more efficient and effective.
5. Security
A modern intranet should protect your organizational information, data, and knowledge. Use technical controls such as requiring (and enforcing) multi-factor authentication as a layer of protection. Then use role-based access controls to make sure staff have access to what they need – for example, a new hire in the HR department will likely need access to internal HR-related business, but most staff members shouldn't have access to that department's confidential information.
For staff, using the intranet as the jumping off point for single sign-on is also a huge benefit. Staff should check the intranet on a daily basis, so starting their day from within the intranet and using it as the jumping off point to access other key platforms (email, chat, meetings, the CRM, the HR system, etc.) is a natural point of entry for single sign-on.
As is the case with all security measures, we always want to make it as easy as possible for staff to do the right thing.
6. IT Infrastructure
Most organizations have already invested in a solid intranet platform – they're just not necessarily using it to its full capabilities. If your organization is using Microsoft 365, you already have a platform that's well-suited to serve as an intranet. For most types of applications, we're platform agnostic. But for an organizational intranet, SharePoint Online is by far the best option for most organizations. Not can SharePoint Online serve as the foundation for a successful intranet, but you don't need to invest in or support yet another platform.
In these cases, the biggest expenses are the indirect costs associated with preparing, organizing, and maintaining content; establishing governance for the intranet; and providing the necessary day-to-day care and feeding of the intranet as a whole. The platform itself shouldn't be a separate line item in your organization's budget, so you may as well take advantage of the tools and invest in the people and processes so your organization can take advantage of a successful intranet.
---
This blog post is part of the new FireOak series: Building and Maintaining a Modern Intranet.