Whether your organization is hybrid, fully remote, or works in an office, an intranet serves as an online space where staff can interact with each other and with the organization. The intranet should be more than a place to go for information – it can be a powerful tool to promote a sense of community among staff members and encourage employee engagement. Here are ten tips for using your organizational intranet to build community and connections among staff, while also fostering employee engagement.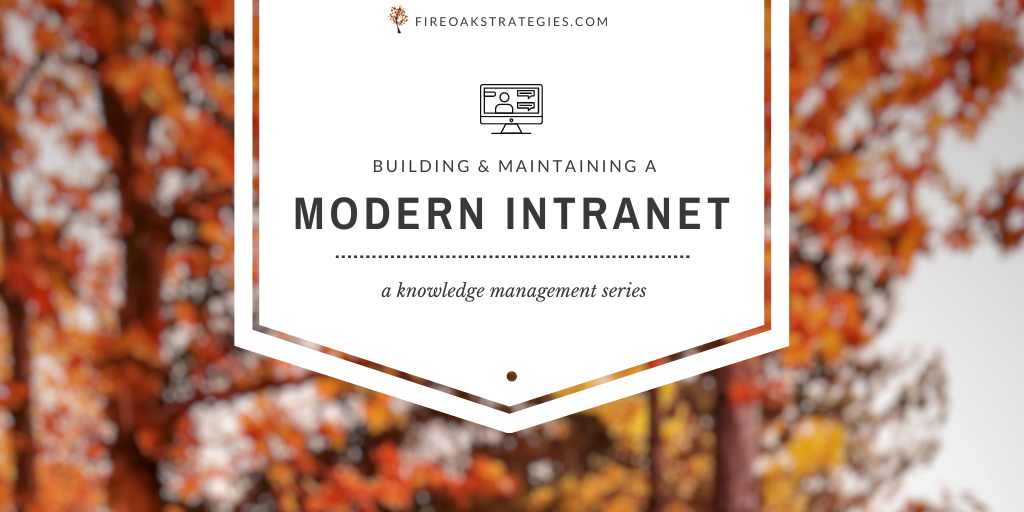 10 Tips for Using Your Intranet to Build Community & Enhance Employee Engagement
1. Bulletin Boards
Create designated spaces on the intranet for staff to use as a Craigslist-style bulletin board. Create spaces for giveaways and local for sale items and discussion boards ("any recommendations for an after-school math tutor for my 4th grader near our headquarters?") or announcements ("Join our lunchtime walking group – we meet at the front desk on Monday-Wednesday-Friday at noon.")
At larger companies with lots of internal transfers, we often see spaces that can be used to help employees move from one location to another – "Welcome to Raleigh/Durham" – where staff can crowdsource suggestions for restaurants, extended stay hotels, moving companies, things to do this weekend, and more. These sorts of staff-led initiatives are a great way to build a sense of community.
2. Staff Profiles & Pictures
Encourage staff to update their profiles, including their photos.
Special request: please don't force staff to use their badge profile picture! We're fine with doing that as the default, but please let employees change their profile picture to something of their choosing. If staff hate their profile picture, they'll be reluctant to create any content for the intranet. It's a viscous cycle.
Adding a profile photo humanizes employees and makes it easier for staff to connect with each other on a personal level. It can help build rapport and establish a sense of community and makes it easier for new hires to become familiar with their colleagues – particularly those who work in different locations (or remotely).
3. Welcome New Employees
An intranet is a great platform to announce and welcome new employees to your organization.
If you create and post a news post when a new hire starts, it allows staff to learn about that person, their role, and to welcome them to the organization whether they meet in person or virtually. If the news post has an option for comments, existing staff members can offer their welcome messages directly on the post.
Encourage new employees to share a photo of themselves to include in the welcome post.
4. Pet of the Month
Our pets humanize us, plus most people love a good pet picture. For organizations where staff work from home, either on a daily basis or even just occasionally, it's common to see a cat tail walk across the screen or to see a snoozing pup in the background. (Maisey is a regular at all FireOak meetings.)
Use the intranet to encourage staff to post photos of themselves with their dogs, cats, birds, rabbits, and other pets, letting coworkers get a small peek into your life and helping to build a sense of community along the way.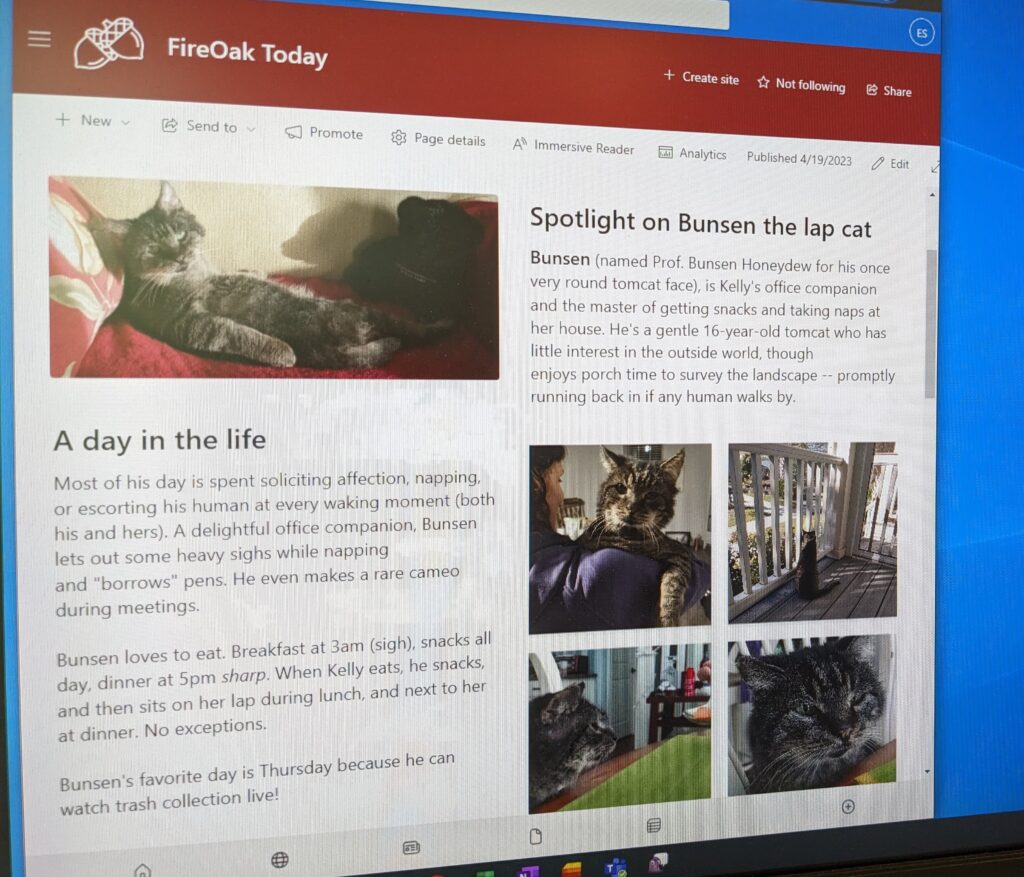 5. Virtual Speakers
Using the intranet to host speakers – internal or external – is another great way to boost employee engagement with your intranet while providing training or informational sessions that are accessible from any location. Offering knowledge sharing sessions like speakers to all employees, regardless of their location, shows that your organization values all employees equally.
Virtual speakers, from an internal perspective, are an effective way to highlight staff successes, work, or projects that are going on at your organization. Including a Q&A round will allow those staff members to interact with colleagues and potentially build relationships with those outside of their direct department. The intranet can be a springboard for a lot of new initiatives!
6. Employee Polls
Ask staff for their input or ideas by Incorporating online polls. Polls can be serious:
Which benefit would you appreciate the most?
Extended lunch to allow for exercise

Extra PTO days of your choice
Or fun:
What's your favorite Muppet?
Kermit
Miss Piggy
Gonzo
Professor Bunsen Honeydew
7. Suggestion Box
Having an online suggestion box built into your intranet is a great way for staff to give feedback about a myriad of topics – with the organization giving the direction here. Using a simple form, staff members can give feedback, offer ideas, or provide their input on anything related to HR processes (onboarding, offboarding); ideas for new cross-departmental initiatives; philanthropic projects; diversity, equity, and inclusion areas of improvement; or anything else.
Having a suggestion box empowers staff and provides them with a place to go to offer their ideas and provide feedback. When staff feel empowered and part of an organization, it helps enhance your workplace culture, build a sense of community, and improve employee satisfaction.
8. Fun Facts about…
Share a little informal information about your organization's leadership team, or rotate department by department ("Fun Facts about Finance….").
You can create a small game (match the staff member with their favorite hobby) or share a photo and short blurb with minor trivia – "Did you know that Sue, our Comptroller, won the Durham Archers' annual competition?" Whenever possible, include a photo.
Staff enjoy learning a bit about each other – it helps to humanize the leadership team and can make it easier for people to connect with each other, especially when dealing with a team that doesn't meet together face to face.
9. Volunteer Events & Teams
Your intranet is a great place to announce volunteer events and team-based activities. Why? Because in addition to supporting organizational information, your intranet can also have an element of fun, enhance opportunities for giving back in the community, and brings together like-minded colleagues together in different ways that aren't only about getting a job done.
Tools such as count-down timers will give a visual aid for your next Volunteer Day, for example. Teams can be brought together using a more social approach that includes a platform for idea sharing, commenting, and in some cases, chatting. Teams might have a more social media feel, which in some cases will aid in intranet adoption because it features familiarity.
10. Physical Office (or Meeting Location) Amenities
For organizations with a physical presence, an intranet is a great opportunity to highlight local restaurants, businesses, coffee shops, public transportation options/schedules, things to do near the office during lunch, etc.
If you're getting ready to host an event or in-person retreat someplace else, the same ideas apply:
"Getting ready to join us for our first face-to-face leadership retreat in Orlando? Here are 5 fun activities, restaurants, and hotels nearby."
---
These are just a few suggestions that might spark some ideas and new ways you can use your intranet to build a community and engage with employees. Looking for more ideas? This blog post is part of the new FireOak series: Building and Maintaining a Modern Intranet.