We're delighted to announce that FireOak Strategies has been named "Knowledge Management Company of the Year" for 2019 by CIOReview for knowledge management companies/services!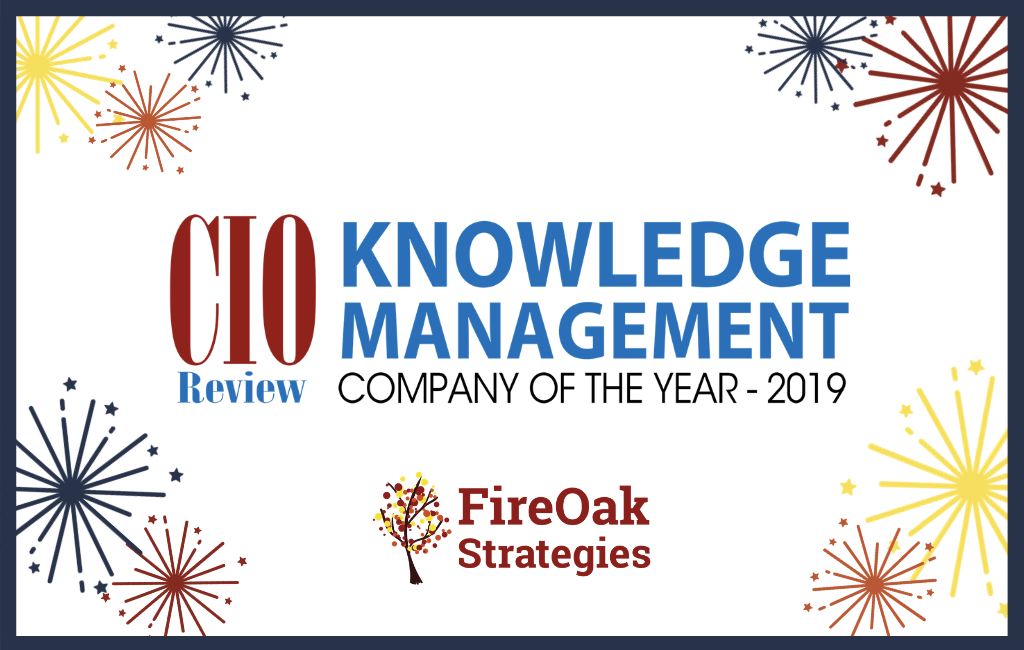 The December 2019 Special Edition of CIOReview features the top 10 Knowledge Management Consulting/Services companies. The CIOReview team writes: "Founded in 2010, FireOak Strategies, LLC has been at the forefront of bringing calm to the chaos by helping organizations in managing, securing, and sharing their data, information and knowledge."
Abby Clobridge, Founder of FireOak Strategies, said in an interview with the team at CIOReview:
"Our technical expertise is what differentiates us from the rest. We're a small but nimble group of experts who are always trying to balance security and knowledge sharing for our clients. We're a geeky bunch who thrive on solving information-related problems, curating content, connecting people to the information and knowledge they need, and applying our expertise to make data, information, and knowledge easily findable, discoverable, reusable, and secure."
Read more about FireOak Strategies in the CIOReview article and learn more about what makes us the Knowledge Management Company of the Year!


FireOak Strategies, LLC is a boutique consulting firm specializing in knowledge management, information security, and information/data management. FireOak Strategies was founded in 2010 and is based out of Durham, North Carolina.