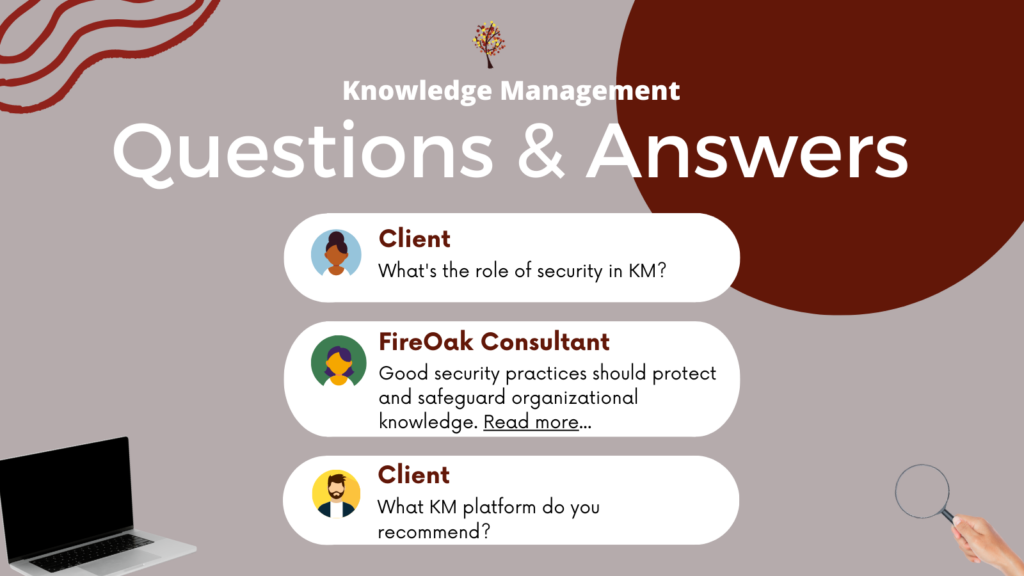 This Knowledge Management FAQ is a list of frequently asked questions we often hear from clients, plus answers from the FireOak Strategies team.
If your question isn't on this list, let us know. We often update the list with new questions and answers.
Knowledge Management — Frequently Asked Questions
---
Answers to Frequently Asked Questions
---
What is knowledge management (KM)?
At FireOak Strategies, we define knowledge management as the ways in which an organization creates, captures, secures, describes, shares, and re-uses knowledge and information. It's how organizations manage their knowledge — and, typically, information and data — in coordinated, systematic ways.
People are at the core of knowledge management efforts: KM is about connecting people to the information and knowledge they need to be successful while also ensuring that knowledge assets are appropriately secured, findable, available, and accessible to the right people.
Successful organizational approaches to knowledge management impact people, processes, technology, organizational culture, and governance.
---
What are some symptoms of organizational knowledge management challenges?
Knowledge management challenges can manifest themselves in many ways, but common symptoms include:
Frustrated staff: staff feel like they're spending too much time hunting for information, can't find what they're looking for, or heavily rely on knowing who to ask
Wasted organizational time and resources due to reinventing the wheel and duplicating efforts across silos
Organizational culture that encourages knowledge hoarding
Loss of valuable knowledge when critical staff members retire or leave
Information, data, and knowledge are leaking out of an organization through unsanctioned adoption of cloud platforms
Information and knowledge get trapped in silos within an organization, making it impossible to search for, find, and re-use colleagues' files and other knowledge assets
It takes a tremendous amount of time and effort to get new staff members fully onboarded and up to speed with their new roles and responsibilities

Fortunately, all of these challenges can be addressed through good knowledge management practices!
---
What's the role of security in knowledge management?
We see security as a critical aspect of managing organizational knowledge. A good information security program should be designed around the three core principles of confidentiality, integrity, and availability — all of which align with knowledge management.
An organization's security program should be designed to ensure that organizational knowledge, information, and data are accessible, usable, findable, and discoverable by the people who need it, when they need it, and how they need to access it. Good security practices should be designed to protect and safeguard organizational knowledge, rather than serving as a barrier for knowledge sharing.
---
What's the best knowledge management system? What systems or platforms do you recommend for knowledge management?
In most cases, we think that the best knowledge management system is one that's already being used within your organization. Information and knowledge management should be an integrated part of everyday processes, workflows, and tasks, not a siloed set of activities.
As a result, we're not fans of standalone knowledge management systems. (Plus, most organizations already have too many platforms — a knowledge management pain point in itself!)
For many of our clients, we recommend using Microsoft 365, Google's G Suite, or a CRM platform such as Salesforce to serve as their core knowledge management system.
Microsoft 365 includes a whole suite of tools that can work quite well for knowledge management purposes. When properly configured, secured, and implemented, Microsoft Teams, SharePoint, and OneDrive, are powerful tools for knowledge sharing, discovery, and collaboration.
Another popular option is using a CRM such as Salesforce as the backbone for knowledge management. Salesforce has many knowledge sharing features and capabilities, including a robust knowledge base and the ability to deploy online communities for groups of stakeholders such as members, collaboration partners, clients, or customers. Using Salesforce or a similar platform as the basis for knowledge management works best for organizations that heavily rely on a CRM for most daily tasks and where all staff members have access/accounts.
In any case, there isn't a one-size-fits-all solution or a single best knowledge management system. Technology should enable good knowledge management practices, but platforms alone won't transform an organization — they're just a starting point.
---
How do we get started with improving our organization's approach to knowledge management?
For our clients, we begin with a discovery and assessment process to fully flesh-out what's working and what's not within an organization's knowledge management environment — everything related to how data, information, and knowledge are captured, secured, stored, shared, and re-used. We look at gaps, pain points, and risks within the current environment as well as strengths to build upon.
Once we've fully assessed the current environment, we work closely with our clients to develop a knowledge management strategy to establish a vision for the future. After a strategy has been defined, we can determine a course of action and prioritize and sequence tactics that align with the strategy.
It's critically important that a knowledge management strategy drives tactics, technology, and implementation, not the other way around. An implementation roadmap should connect the dots between strategy and tactics.
Once the implementation roadmap in place, it's time for implementation. We're fans of iterative, agile approaches that allow for testing, learning, and fine-tuning along the way.
---
Ask us a question
Want to submit a question for this knowledge management FAQ? Send us an email or contact us.