Open Access Research for World Cancer Day
February 4 is World Cancer Day each year. Join us to thank researchers and publishers for sharing their open access research and open data related to cancer research, technologies, treatments, and prevention programs.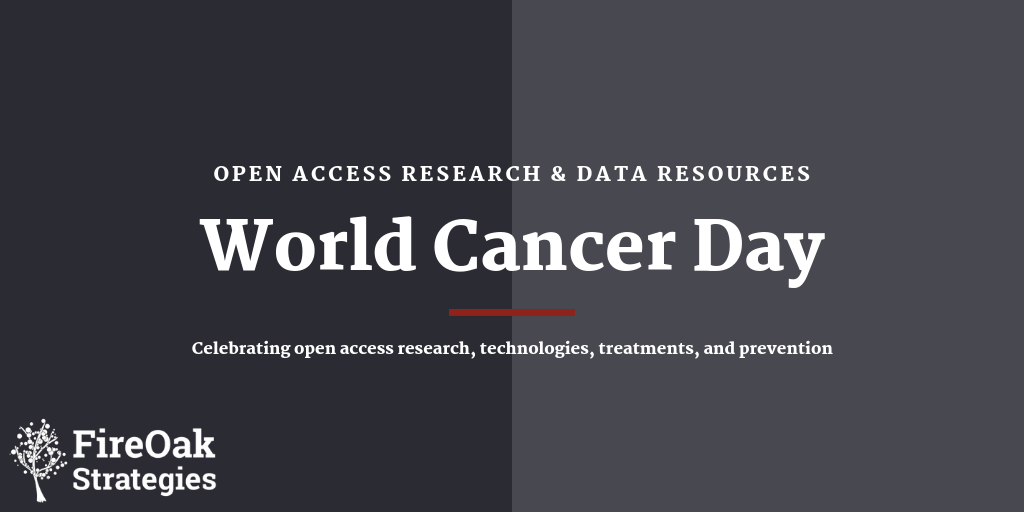 We hope that open data and open access to research will lead to scientific advances sooner in the fight against all types of cancer. And we know that open access to publications can make it easier for patients, families, and medical practitioners to make informed decisions about treatment options, trials, and screening techniques.
Open Access Research
Frontiers in Oncology World Cancer Day 2019 Special Edition, a curated collection of research from Frontiers journals, "highlighting ongoing research and advances being carried out in the different disciplines of cancer research."

OncoTargets and Therapy

, an open access journal published by Dove Medical Press and available via ScienceOpen.com

Cancer Science

, the official journal of the Japanese Cancer Association, is available free from Wiley Online Library

Molecular Cancer

is an open access, peer-reviewed journal featuring high-quality original research and reviews that present or highlight significant advances in all areas of cancer and related biomedical science

Neoplasia

publishes the results of novel investigations in all areas of oncology research, encompassing the traditional disciplines of cancer research as well as emerging fields and interdisciplinary investigations

Breast Cancer Research

is an international, peer-reviewed open access online journal, publishing original research, reviews, editorials and reports.

CA: A Cancer Journal for Clinicians

, published by the American Cancer Society, includes information about the prevention, early detection, and treatment of cancer, as well as nutrition, palliative care, survivorship, and additional topics of interest related to cancer care.

Cancer is an international interdisciplinary journal published by the American Cancer Society. While articles from the last year require a subscription, all content older than twelve months is free to access online.

Oncology Open Access Research

is a portal that showcases journal news, collections, highlights and recent campaigns from BioMed Central's open access journals, as selected by their editors.

BMC Cancer

is an open access, peer-reviewed journal that considers articles on all aspects of cancer research, including the pathophysiology, prevention, diagnosis and treatment of cancers.

The American Journal of Cancer Research

is an independent open access, online only journal to facilitate rapid dissemination of novel discoveries in basic science and treatment of cancer.
Open Data