Working with Nonprofit Organizations
With all of our clients, we work to enhance how they manage, secure, and share organizational information, data, and knowledge. Our nonprofit clients vary tremendously in the focus of their work, but they include foundations, think tanks, research and education institutions, and associations.
All of our nonprofit clients are particularly concerned with being as effective and efficient as possible so they can focus on accomplishing their mission and achieving their goals.
Common traits among our nonprofit clients:
Mission-driven
Staff are always looking for new ways to help accomplish organizational goals
Lots of ad hoc, informal procedures about how to work
Concerns with organizational knowledge walking out the door
Grassroots knowledge management efforts
Proliferation of free cloud platforms, making it difficult for staff to find information
Small and/or outsourced IT roles
Common misconception that "no one would want to hack us," which is used as an excuse for not having an information security program in place
Assumption that external IT vendors are responsible for information security
We partner with nonprofits to fine-tune their processes, policies, procedures, and technologies in ways that are cost-effective, practical, and balance security and sharing.
Nonprofit Client Stories
These stories are designed to illustrate and showcase some of the typical work the FireOak team conducts for nonprofits.
Knowledge Management & Information Security
Conducted a combined knowledge management & information security discovery and current state assessment
Performed hands-on, deep dive assessments for Office 365 and Salesforce platforms
Developed an implementation Roadmap for managing, securing, and sharing organizational information, data, and knowledge
Cybersecurity Assessment & Roadmap
Conducted a comprehensive, hands-on technical assessment for multiple offices
Prioritized findings based on risk assessment
Prepared briefings for C-level executives, senior management team, and Board of Trustees
Developed a practical three-year plan for moving forward
Information Security Maturity Assessment
Conducted a holistic assessment of the college's information security program -- people, processes, and technology
Facilitated conversations with faculty and staff outside of IT to raise awareness of security-related issues and begin to change the culture around cybersecurity
Identified top risks and provided recommendations for strengthening the college's cybersecurity posture
Provided cybersecurity briefings to C-level executives, faculty, and other senior leaders
Office 365 Intranet Modernization
Evaluated current intranet, collaboration platforms, and business process automation tools
Conducted a needs assessment to prioritize needs and define requirements
Facilitated a process to help the organization reconceptualize a modern intranet within Office 365
Developed and implemented a plan for building out a new intranet using Office 365
Knowledge Management Implementation & Operations
Developed a strategy and implementation plan for a series of new knowledge management tactics, including a knowledge base
Built a knowledge base with custom fields, interactive functionality, and reporting capabilities
Developed a custom app to conduct extract-transform-load functionality to ingest thousands of records into the knowledge base
Performed curation services and long-term support as requested by the client
Services for Nonprofits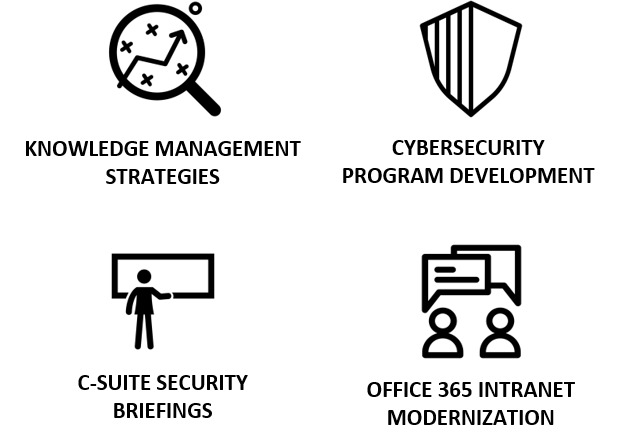 Who We Serve: About Our Clients

FireOak Strategies partners with all types of organizations, but our specialties are working with nonprofits, private sector companies, and international organizations. We've worked with clients all over the world and focused on areas as varied as healthcare, pharmaceuticals, insurance, travel, agriculture, education, humanitarian aid, and manufacturing.
Our Work with International Organizations