About our certifications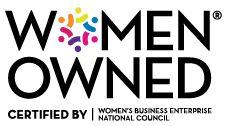 ---
FireOak Strategies, LLC is proud to be a certified woman-owned small business
FireOak Strategies, LLC is a Woman-Owned Small Business (WOSB) and Women's Business Enterprise (WBE) as certified by the Women's Business Enterprise National Council (WBENC), the largest certifier of women-owned businesses in the U.S. and a leading advocate for women business owners and entrepreneurs.
WBENC's national standard of certification implemented by the Greater Women's Business Council is a stringent process that includes an in-depth review of the business and site inspection. The certification process is designed to confirm that the business is at least 51% owned, operated, and controlled by women. FireOak Strategies is 100% woman-owned.
By including women-owned businesses among their suppliers, corporations and government agencies demonstrate their commitment to fostering diversity and the continued development of their supplier diversity programs.
FireOak first received WBE and WOSB certification in 2017. Ever since, FireOak has gone through the rigorous recertification process on an annual basis.