Abby Clobridge
Founder of FireOak Strategies
Meet Abby Clobridge
Abby Clobridge is the founder of FireOak Strategies, a boutique consulting firm specializing in helping organizations enhance and improve their knowledge management, information management, and information security capabilities.
---
Abby has a unique background that includes over twenty years of professional experience at the intersection of knowledge management, information management, data/information governance, libraries, and technology. She has worked with a wide range of organizations, including United Nations agencies; colleges and universities; not-for-profit organizations; the news media; and private sector companies.
Before founding FireOak Strategies, Abby was the Associate Director of Research and Knowledge Services at Harvard University, Kennedy School of Government where she developed a knowledge management program and supported the school's Open Access policy. From 2003-2009, Abby was the head of the digital initiatives program at Bucknell University (Pennsylvania) where she launched the university's digital repository and supervised metadata initiatives. Earlier in her career, Abby worked as an investigative researcher and news librarian for CNN.
For FireOak Strategies, Abby oversees client engagements and serves as the lead consultant for many of our projects. She's often traveling around the world to visit clients and speak at conferences.
Abby holds a B.A. (Cum Laude) in History from Tufts University and an M.S. in Library Science from Florida State University.
In her spare time, Abby can be found chasing a personal record on her Peloton bike, putting together a puzzle, swapping war stories with other entrepreneurs, or hanging out with Twitch, her oversized Maine Coon cat, and Maisey the Dog.
Awards & Certifications
Under Abby's leadership, FireOak Strategies has been named the Knowledge Management Consulting Services Company of the Year by CIO Review (2019).
Certifications
FireOak Strategies is a certified Woman-Owned Small Business (WOSB) and Women's Business Enterprise (WBE), certified by the Women's Business Enterprise National Council (WBENC), the largest third-party certifier of businesses owned, controlled, and operated by women in the U.S.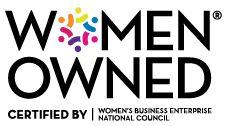 Other Awards
Over the course of her career, Abby Clobridge has been awarded two prestigious awards. Along with her former colleague, David Del Testa (Associate Professor, Department of History, Bucknell University), Abby won the 2009 ACRL Instruction Section Innovation Award for the development of the "paper and pixels" model of teaching as demonstrated in the World War II Poster Project. Two distinct pedagogical models were developed as a result of this project; both have been replicated at other colleges and universities.
While at CNN, Abby and the other members of the investigative unit won First Place, National Headliner Awards (2002) for CNN's continuing coverage on "Attack on America and Aftermath."
Research, Writing, and Presentations
Abby Clobridge is the author of over fifty articles about knowledge management, information management, and open access; two book chapters; and a book, Building a Digital Repository Program with Limited Resources (2010).
She is currently writing a new book about knowledge management.
Selected recent presentations and panel discussions include:
"Good Practices throughout the Research Data Lifecycle," a panel moderated by Abby Clobridge at the CGIAR Big Data in Agriculture Convention in Hyderabad, India
"Organizational Considerations for Data Transparency and Information Security," a panel discussion with Kait Maloney (Catholic Relief Services) and Forrest Wilhoit (NetHope) at ICT4D Conference in Kampala, Uganda
"Data Horror Stories: 5 Stories from the Field," a session at the CGIAR Big Data in Agriculture Convention in Nairobi
"Strategic Expansion of Analytics Capacity through Knowledge Management," with Joe Kimura (Atrius Health) at the HIMSS Conference in Orlando
"Balancing Security and Sharing: Tips for Information & Knowledge Managers" at KMWorld in Washington, DC
"Diagnosing Taxonomy Challenges & Other Knowledge Management Tales from the Field," Special Library Association Annual Meeting
Selected articles from The Open Road, Abby's column in Online Searcher:
" The Dark Side of Open Data" Abby Clobridge with Eric Hinsdale
"40 Reasons to Share Your Knowledge"
"Open SharePoint"
"Open Behind Closed Doors (Internal Knowledge Sharing)"
"Securing Open Knowledge" with Eric Smith
Other selected articles:
"Open Access and Open Data at CGIAR: Challenges and Solutions" with Medha Devare, Megan Zandstra, and others in Knowledge Management for Development Journal
"Meaningful Metadata for Findability and Discoverability," in Taxonomy Times
"Let's Encrypt the Internet: From HTTP to HTTPS" in Information Today
"Open Access 101: Everything You Need to Know to Get Started with Open Access" in FUTURA: The International Journal of Boehringer Ingelheim Fonds (BI Fonds)
"Open Access: Progress, Possibilities, and the Changing Scholarly Communications Ecosystem" in Online Searcher
"Libraries and MOOCs" in Against the Grain
"Students Take Action in Support of OA: The Open Access Button & Student Advocacy Efforts" in Against the Grain
Recent Blog Posts by Abby Clobridge
Is your staff ready to work from home en masse? Consult the FireOak Strategies Coronavirus Cybersecurity Checklist to prepare your organization.
---